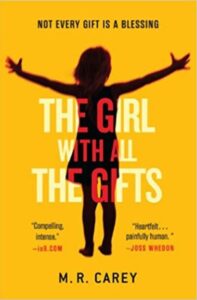 I highly recommend The Girl With All the Gifts!  I recently listened to it through audiobook format and it is a thoroughly engrossing tale.  A story of a young girl who is "different".  I don't want to spoil that aspect.  Great action, great characters!  One of the best books I've experienced in a while.
It's a different take on the whole zombie genre. This book is about a girl who is quite intelligent, but there is something unique about her that I will not go into as I consider it a spoiler.
The book follows several perspectives: the girl's, a research scientist, and a military officer. The author does a splendid job of character development and showing the different motivations of each character.
Definitely action-packed and suspenseful. It will keep you guessing till the end. And the finale is quite fitting.