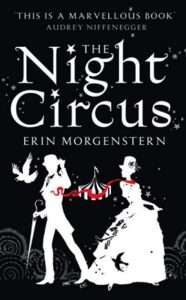 *Exquisitely vibrant and lush story-telling*
The author's prose is so rich and beautifully descriptive that the reader feels positively transported into the tale of a fantastical night circus that takes place in the late 1800s/early 1900s.
The story is about a couple of elderly magicians who hold a sort of contest between their respective protégés. The contest continues until a winner is determined, and then another contest is begun with new protégés.
A young girl, Cecilia, and a young boy, Marco are picked as the next protégés in the latest contest. The two, along with the rest of the circus, travel about the world putting on incredible shows, but only at night. The author's description of the magical talents and various spectacles that the two magicians showcase is superb and entrancing. You feel as if you are right there watching the magical displays. The sheer mastery that this author has with words is enough of a reason to get this book.
The finale is not as expected, or rather what you'd typically expect from such a story; yet it is satisfying. Bottom line: the prose is an example of how books should be written.
(My book reviews can be found here: https://www.goodreads.com/review/list/40559566)